With 365 lakes in our beautiful county and a great tradition of music, its no wonder we don't see more music on our lake shores. There is no better setting for a performance or any form of cultural activity than the backdrop of glistening waters and the sound of softly lapping waves. This August and September, Clonandra Cottages are bringing you "Culture at Clonandra". A series of events to celebrate this stunning location, not just as a great place to stay, but as a place to attend smaller intimate events overlooking Lough Garrow.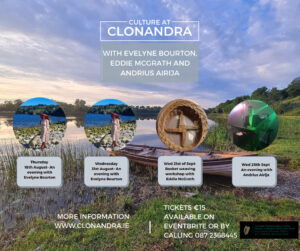 Clonandra Cottages are situated just outside Redhill's and offer 5 self-catering cottages for leisure visitors to the area. The cottages are equipped with all modern conveniences and offer stunning views over Lough Garrow as well as a sauna and hot tub. In pre-covid Ireland the cottages attracted many international fishermen to the area, but, in more recent times, there has been a far greater demand from domestic leisure visitors.
With the arrival of more domestic visitors comes the demand for more activities in the area. Cavan adventure centre and Carafin Activity park are certainly putting county Cavan on the map but evening entertainment can sometimes fall short. The culture events at Clonandra Cottages will offer an evening time activity for locals and visitors alike.
On the 18th and 31st of August, Evelyne Bourton, Bel Canto Soprano will preform for an intimate crowd at the cottages. On September 21st, Eddie McGrath will host an evening demonstration of basket weaving. Eddie makes high quality baskets from seasoned willow. For this basket weaving demonstration, Eddie will have a selection of contemporary and traditional baskets and he will talk on growing and cultivating willow and the history of basket making. There are also limited tickets for this workshop. On September 28th, Clonandra Cottages will welcome Andrius Airija. This talented singer will perform for 2 hours, and tickets are limited to 20 for this event also.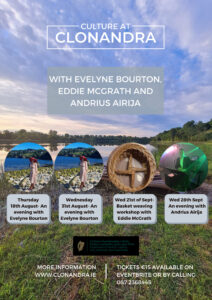 For more information on the events just log onto Clonandra Cottages website at www.clonandra.ie/culture-at-clonandra/ . Tickets are now available to purchase on Eventbrite or by calling 087 2368445.
Culture at Clonandra is being supported by the Night Time Economy Support Scheme (NTESS). The aim is to promote an increase in footfall in our cities, towns and villages as well as providing artists with paying gigs and customers with a more alternative, diverse, and inclusive night-time offering.